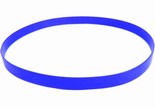 Band Saw Tires
Our Band Saw Tires are made from the highest quality material to exacting standards. That's why they deliver such outstanding performance and wear consistently for so long. Tires are available in a variety of sizes to fit most popular bandsaws. All tires come with complete, detailed instructions to facilitate proper installation.
Urethane Tires provide even greater durability and resistance to damage and allow for optimum blade tracking. These tires provide superior strength and are generally installed without adhesive bonding being required. Simplified installation procedures permit the saw to be returned to service sooner after installation

To reach a friendly voice, call 1-800-TOOLING (866-5464)
during our hours of operation:
Monday through Friday, 9 a.m. to 6 p.m. EST
(Eastern Standard Time)

www.feedrollers.com, is a Division of Wood Tech Enterprises, Inc. see our parent website below:
Wood Tech Enterprises
Our website: www.woodtechtooling.com

P.O. Box 2226
Fairview, NC 28730 USA

1-800-TOOLING (866-5464)
Phone: 828-628-4414
Fax: 828-628-4490

Shipping Address:
19 Khristy Scott Lane
Fairview, NC 28730 USA

Copyright © 1998-2012 Wood Tech Enterprises, Inc. All Rights Reserved. Designated trademarks and brands are the property of their respective owners. Wood Tech is not responsible for typographical errors. Prices are subject to change. All prices are in U.S. Dollars..